Choosing the right finishes and furnishings can dictate the ambience of your luxury home, and the colors you select play a significant role in determining the home's look and feel. Colors have the ability to define your look and influence the perception of space in any room.
Color is subjective to all, but it is still necessary to use paint to define the surroundings according to your own vision. When it comes to color, there is no right or wrong choice, but there are some steps you can take to help you choose the color that sets your home's overall tone.
Check the Floor Plans
The floor plan may not seem like a necessary place to start when choosing your colors, but when you are determining which room or area is visible from another room, the floor plan is the perfect place to look. Spaces that "coexist" need to be complementary to one another in order to create a sense of flow. You can use a floor plan to keep track of this, even if it is just a rough sketch.
These notes will eventually lead to choosing the palette for your home so refer to them when choosing colors. You will want to make note of adjoining rooms, and any other room that is visible from where you are standing.
Defining the Tone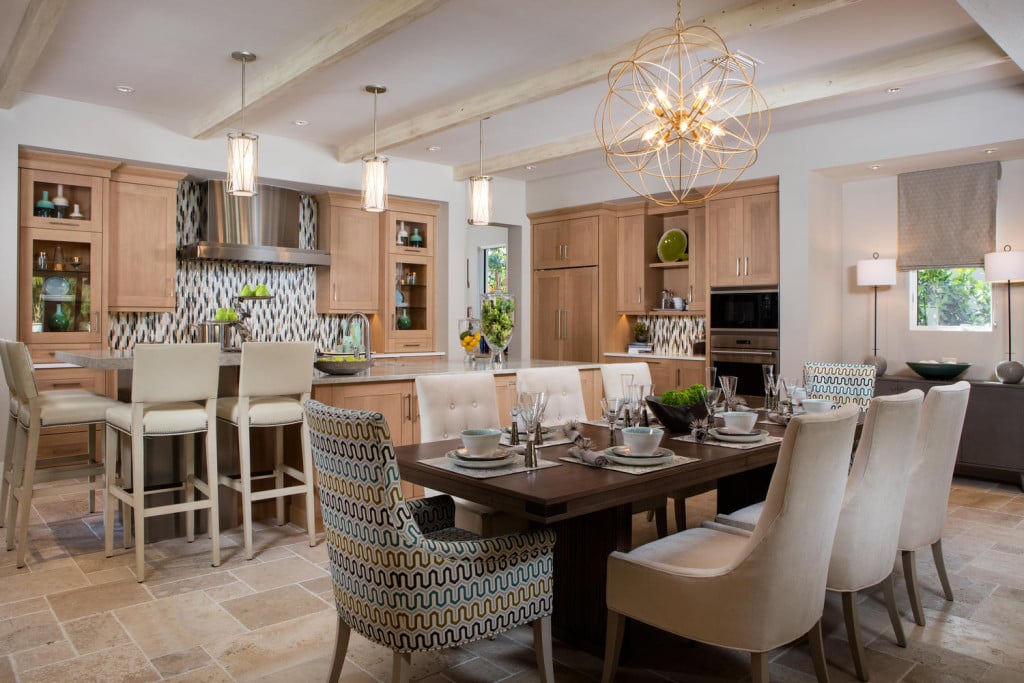 Do you want the home to feel crisp and clean, or do you want to feel warm and cozy in your space? Deciding how you want your home to feel is important because the right colors can enhance that feeling and allow you to send the right emotional message.
Bold hues often give a sense of energy and confidence. They can be explosive and have a powerful impact on the space. On the other hand, light and soft neutral colors can give a relaxed feeling and help make the room feel more open. Earthy colors can make you feel snug and safe, an important feeling when you are relaxing in your home.
Deciding the tone you want the room to have can impact the colors and furniture you use to decorate it. Make sure you figure out your tone appropriately by establishing the feeling you want in your home and then choosing colors to express those feelings.
The Central Room
Every house has one room that is the center of the home or, at the very least, the biggest one. This space can be the living room or the gallery, and can be what your entire house's design is centered. It can influence whether you are settling for bold confidence, soft elegance, coastal relaxation, or any other preferred design.
This space is also the first impression your guests will receive upon entering your home and will define the home. Therefore, the tone of this room is the most important.
Complementary Colors
There are major design elements in each room that make it special, like the woodwork on the ceiling, the French doors leading out to a private garden, a grand sofa with a favorite pattern, a magnificent chandelier, a coffee table made from driftwood, or any other unique piece you find to include in your space. Since any room can have one feature that stands out, it is best to choose the color scheme that complements that piece.
Mix and match the colors of these features of the room with the color pattern. If you have a bold painting that you want to highlight, a soft background that enhances the color of the art is ideal.
Testing the Colors
Light can impact colors, so it is important to test every color to find the perfect shade for each area of the home. A recommendation is to paint large swaths of color on the wall and check them at different times of day and with different lighting features. Natural light and artificial light can change the look of your chosen colors, so figure out which shade will look best in your space and with your chosen lighting fixtures.
Be Creative in Your Color Palette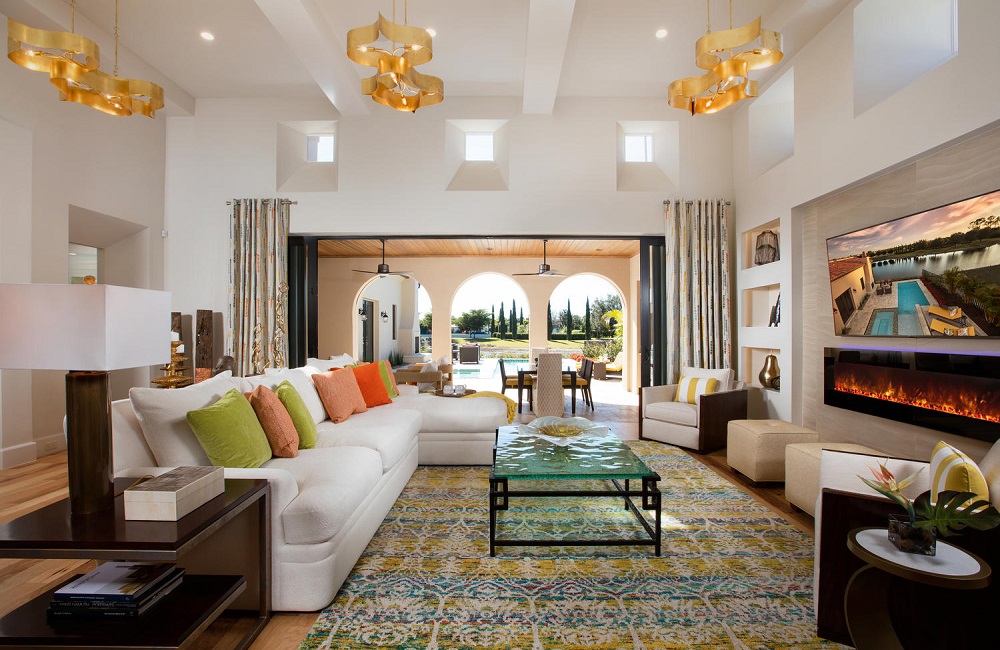 Paint can be a defining feature of your home and will be something you have to live with for a long time, unless you prefer to renovate your home frequently. A one dimensional palette can often look dull and be boring as time passes and, when you spend the time and money to build a luxury custom home that reflects your personality, you want your interior design to enhance the look of it.
Interior design trends are leaning towards using multiple color schemes for the same room, and blending the colors with shape, scale, light, texture, pattern, and balance to enhance the overall look. For example, one wall can be a textured fabric in a neutral color and you can then add bright accents of green, orange, melon and yellow. Furniture forms, lighting fixtures, wood, and metal tones can balance the colors for a soft contemporary design. This was the interior design created by Romanza for the Capriano model by London Bay Homes in Mediterra Naples.
Your home is a place where you should feel the most comfortable. When deciding on any colors, furnishings, or finishes, you must stay true to yourself and come up with a design that will reflect your personality. If you need a little help, the award-winning interior designers of Romanza Interior Design are available to create your perfect color palette and then find the furnishings to complete the look. Contact Romanza Interior Design to start your path towards the perfect interior design.