As autumn gets ready to kick into high gear, so do the shiny new trends that look to freshen up and revamp your interior design. Fall-themed designs are often associated with wooden twigs, yellow leaves, pumpkins, and other yellow and orange colored fruit.
In most cases, there is no need to change big and bulky accessories in your house, such as the bedroom furniture, every season. For a seasonal revamp of your home, all you need are a few changes in your décor using various shades of yellow, gold, and orange. Let's discuss some autumn-centric themes for your interior design in more vivid detail.


Setting Flower Prints
Flower prints are an ever-popular trend and interior designers are falling in love with them all over again. Many people are taking things up a notch by creating flower prints on a mega scale, opting for big pre-Raphaelite style designs embedded on accessories such as murals and cushions.

Those who love floral prints are finding innovative ways to incorporate them into their homes and make their rooms pop with vibrancy. If you opt for a more subdued color scheme, those darker flower prints may be able to restore calm into an otherwise chaotic environment, but make sure you don't add too many as you wouldn't want your home looking like a greenhouse.


Choosing Neutral Colors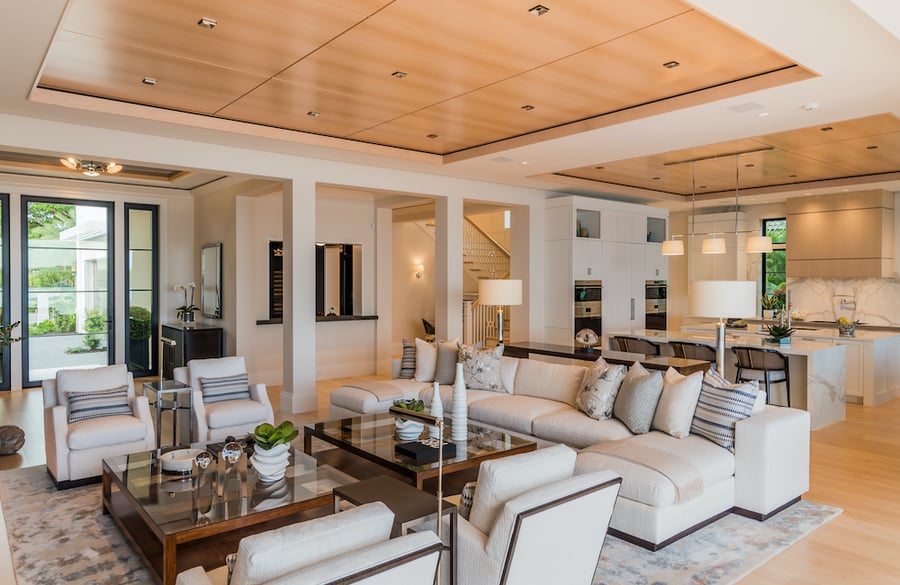 Many people may believe that neutral colors are boring, but what they don't know is that a less vibrant color scheme goes well with an autumn-themed house. A neutral backdrop can help bring out colorful accessories in your room that may otherwise get lost in the extravagance of a brighter backdrop. Neutral colors provide an ideal base to show off warm textures with wooden elements and nubby lines, a typical characteristic of an autumn-themed room.


Bright Yellow Rug Colors
For everything else that isn't the background, you should go for something that has more yellow hues. You can set up a bright yellow rug and stack a gold-colored area rug on top. Set up elements – such as patio chairs and rocking gliders – that have hewn wooden textures with yellow themes.


Black Themed Bedding
Creating a warm, well-designed space requires sprinkling neutral colors in the room, and black themed bedding will help you create this space easier. You should start by retrofitting your bed with black colors and combine them with a little bit of white to balance things out.


Redesigning Your Front Porch
Spruce up your front porch by setting up raffia, corn stalks, or straws around the entry porch columns and mailbox. To help keep the raffia in place, use deep orange-colored ribbons to contrast with the straws. Complement them by adding wooden chairs to the space and create an area to relax in the great outdoors with your family.


Asymmetrical Designs
For a more diverse design, you can arrange pumpkins of different sizes dotting the porch. If set up correctly, it will look like autumn came and delivered goodies to your home. Complement the pumpkin setting with lanterns and candles that have yellow and brown colors that are compatible with the pumpkins.

You don't have to limit this design to the porch either. You can arrange pumpkins in a variety of sizes on your coffee table and add some raffia or corn stalks for an autumn-inspired centerpiece. The key here is the eclectic design appeal that asymmetrical themes can bring to your home.


Autumn Kitchen
Kitchens are undergoing a complete redesign and are no longer just functional rooms with a worktop and a complementary panel of appliances. The new trends are all about setting up different textures and bringing together different colors.


Geometry is Key
Color and geometry with different shapes such as blocks, spheres, stripes, and spots can tie in well with your room, especially when it comes to soft furnishings. The contemporary flair that modern patterns bring to your room help even the most lackluster of interior décor ideas stand out.


Slipcovers
Colorful slipcovers are an affordable way to brighten up your room. You can go for both formal and casual designs depending on the type of fabric and its color. Slipcovers vary in color, style, and materials, giving you many options from which to choose. Since they are inexpensive, you can experiment with different design choices without breaking the bank.
---
If interior design isn't your thing, check out London Bay Homes' many luxury model homes available in luxury home communities throughout Southwest Florida. The luxury home builder's model homes are semi- or fully-furnished by our award-winning interior designers at Romanza Interior Design. You can also contact us to set up a meeting and discuss the many options available to create your autumn-inspired paradise.