The kitchen is undoubtedly the heart of the home. It is where meals are made and memories are created. Elevate your kitchen space with these five tips to help make your kitchen look larger and more inviting.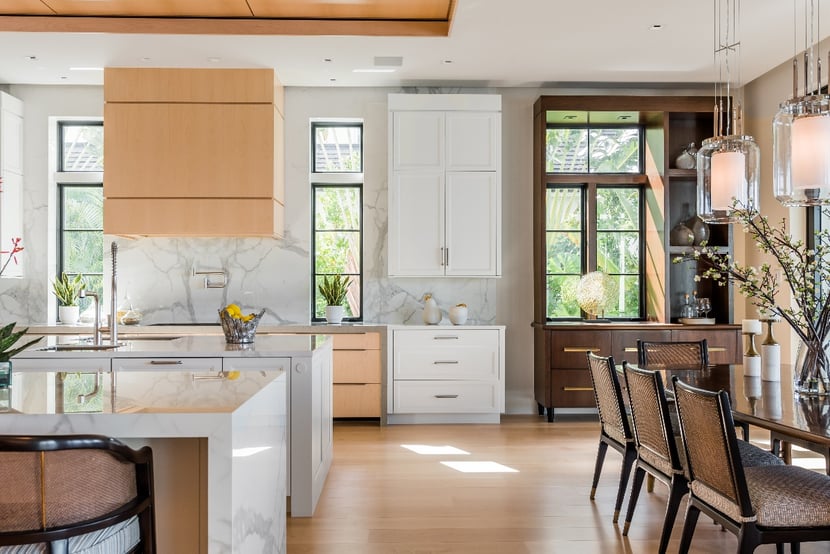 1. WELCOME NATURAL LIGHT
Natural light enlarges any space. You may have no choice regarding the number or placement of windows in your kitchen, but you can maximize the light you do have by selecting blinds that tuck away and let the sunlight in. In 2021, one of the most popular styles of blinds are roller blinds. Hidden from the naked eye, these beloved blinds can be remote or timer controlled and come in different colors, patterns, and thicknesses.
2. INCORPORATE SEVERAL SHADES OF WHITE
The color white has excellent light reflective properties which makes it a great option for smaller kitchens. When you combine white cabinets with white countertops and walls, your kitchen will look bright and airy. Don't be afraid to add textures and use several shades of white to create interest. When choosing your whites, look for softer shades to avoid a sterile look.
3. CONNECT THE SPACE TO THE OUTDOORS
One of the best parts of living in Florida is being able to use outdoor spaces year-round. Embrace the tropical weather by adding an outdoor patio off of your kitchen. This will create extra space to entertain and dine while allowing additional natural light into your kitchen. If you want to add interest to the patio entryway, add paneling to the glass and door. In this home, iron was used to create modern-looking paneling.
4. BLEND SURFACES
Connect your backsplash and countertops to create a cohesive look. In this kitchen, the backsplash and countertops are composed of the same material which creates a seamless, clean look. To create this look, opt for either a light or dark marble. To add interest, select a sample with unique veins. Keep all other decor and details to a minimum to avoid overwhelming the space.
5. LAY THE BACKSPLASH TILE HORIZONTALLY
To visually expand a tiny kitchen, opt for an elongated backsplash tile that can be laid horizontally. Larger tiles are great for smaller spaces since there are fewer grout lines. With small tiles, the kitchen walls can appear grid-like due to all the grout lines. In turn, this makes the space feel smaller. To go the extra mile, use tiles with either a metallic, glossy, or pearlescent finish. These finishes reflect light which tricks the eye into thinking the space is larger.
Download our brochure to learn more about how Romanza Interior Design can transform your dark and dated kitchen to the light and bright heart of the home.