Spring brings many changes and interior designers always love the bright and bold options it brings to the table. The colors, patterns, and texture offer bright and rejuvenated design schemes that can be incorporated into the timeless designs in your home for a quick pick-me-up in style and function. If you love keeping up with the latest trends, you need to keep an eye on these top spring interior design trends for your luxury home:
Colors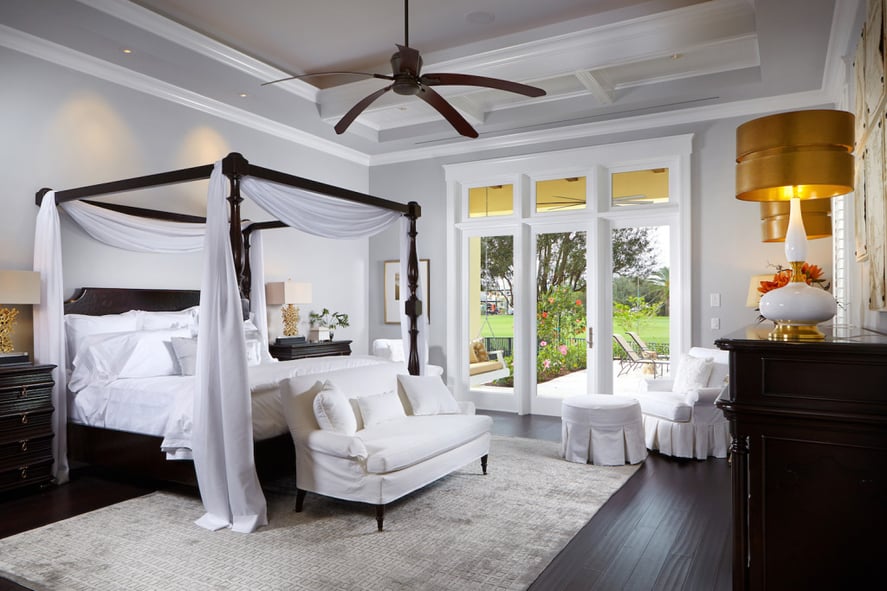 This spring, there has definitely been a preference for certain colors. Pantone's color for 2018 is "Ultra Violet," and it has been popularly utilized, not only in interior design, but in clothing, makeup, and other trends. The following colors have also been popularly used:
Sage Green
A deep, dull green, sage is a popular color for homes as it imparts a calming aura. With more people trying to make their homes calm, peaceful, and relaxing, sage green has become a favorite color of choice. Not only does it calm one down when used for interior design, it also allows one to bring the greenery outdoors, indoors with ease.
Vibrant Pastels
For people who love vibrant, bright rooms, different vibrant shades of ultra violet, pinks, blues, greens, and other pastels are popular choices. Color blocking, mixing, and matching the interior design with these shades imparts a light, cheerful aura to any room. In fact, people are also now using these shades for their kitchens.
Moody Colors
Murky browns, dark gold, dark blue, bronze and sumptuous greens are also popular colors for interior design. These colors not only enhance a room, they also bring out the colors in other objects. One favorite way to use this color is to pair it with opulent textures, such as velvet, that emphasize the richness of the color.
Patterns
Patterns in interior design can be used to highlight or even minimize certain aspects of the room. Its versatility means that it can be used in a number of different ways. Patterns also play a role in setting the overall aura of the room. The following are the most popular patterns for this spring's interior design trends:
Buddhist Designs
Take spiritualism to a new level with Buddhist mandala designs. Be careful when using the mandala pattern for interior design though. Due to their vibrant colors and intricate designs, less is more here and you can easily make a room appear cluttered and cramped if you're not careful.

Textured Ceilings
Statement ceilings are becoming exceedingly popular in interior design as they tend to create the
allusion of having a high roof. Patterned wallpapers as well as painted designs are being used on ceilings to give the eyes an interesting focal point. Careful pairing is necessary to pull this look off as it can be too much.
The 70's are Calling
Whether you're using a patterned carpet or wallpaper, the 70's patterns and designs are becoming popular again for interior design. It might be time to raid your attic and start using all your old carpets and rugs.
Space and Layout
In interior design, the available space and layout of the room plays a key role in establishing the purpose, the role and the usability of the room. While you can't change the original layout of the room, how you use the available space really plays a role.
Negative Space
Wide and negative spaces are playing a distinct role in interior design trends this year. This entails clever usage of area rugs instead of carpets, arrangements of sofas and other accessories that emphasize the availability of space. This can also be emphasized with color blocking.
Maximizing Space Usage
On the other hand, for cramped or small spaces, the popular interior design trend is to maximize the available space in the most creative manner possible. This has made accessories, such as a foldable step ladder that is also a stool or a multi-function mirror shelf that turns into a table when unfolded, really popular. Thinking out of the box is the main challenge here.
Textures
Textures work like patterns by giving the eye something to break the monotony; they also help to give the room more depth and visual volume. Textures don't just need to be felt by hand as they can have a visual impact too and can make a room coherent and tie in a design scheme completely.
Wicker and Cane
Organic wood textures are a favorite in interior design trends again. Wicker and cane furniture for indoor use is also being popularized as it brings in an earthy element inside the home. These items aren't just restricted to home swings. Entire dinner table sets made from cane, bamboo, and wicker are now being used.

Metals are Back
While the use of metals never went out of fashion as an interior design trend, the use of particular metals has become commonplace. Copper was the metal of choice in 2017 but in 2018, the attention has been shifted to silver. The cool metal is also perfect for use with warm pastels, deep gold, blues, and greens.
Faux Furs
In line with the 70's, faux fur is also a popular texture choice for interior design trends. Shag carpets with long fibers, as well as cushion covers that are made from faux fur, are great for adding a wild yet warm aura to a room. It also ties in the earthy elements used in your furniture.
Find the idea of incorporating new spring design trends a little intimidating? Romanza Interior Design is a full-service interior design firm that has received more than 150 interior and architectural design awards for their work in luxury custom homes throughout Southwest Florida. Our designers can blend innovative interior design with superior service to make your home truly special and reflective of your style and taste.
Contact us to learn more about interior design services.